Frances Ford Coppola Thinks Marvel Movies Are "Despicable"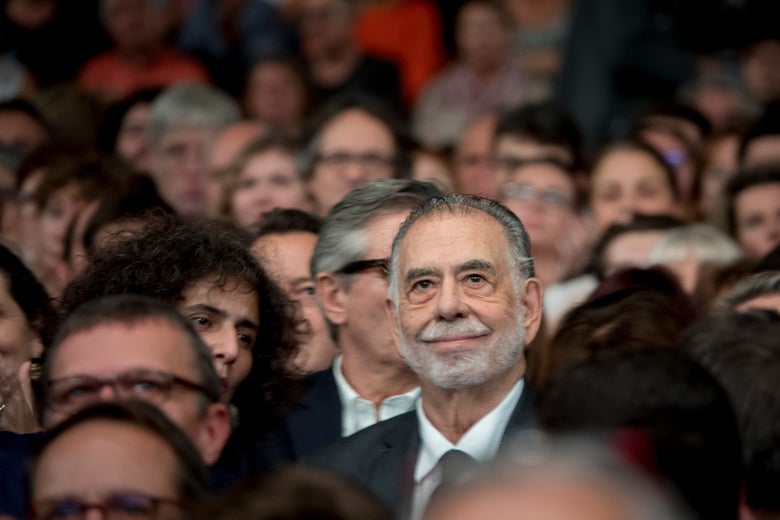 The ongoing battle between New Hollywood and Superhero Hollywood heated up on Saturday, as Apocalypse Now director Francis Ford Coppola told journalists in Lyon, France, that he finds Marvel movies "despicable." Coppola, in France to receive the Prix Lumière at the Lumière Film Festival, joined a fracas started by his fellow New Hollywooder Martin Scorsese earlier in the month, when the Taxi Driver director told Empire Magazine that he'd tried watching Marvel movies but didn't consider them cinema, or at least not the "cinema of human beings trying to convey emotional, psychological experiences to another human being." Scorsese compared Marvel movies to theme parks, which can at least be fun, but Coppola went further, according to France 24:
When Martin Scorsese says that Marvel pictures are not cinema, he's right, because we expect to learn something from cinema. We expect to gain something-some enlightenment, some knowledge, some inspiration. I don't know that anyone gets anything out of seeing the same movie over and over again. Martin was kind when he said it's not cinema. He didn't say it's despicable, which I just say it is.
Coppola's remarks have sparked another round of responses from filmmakers and fans on the pro-Marvel side of the aisle, most notably Guardians of the Galaxy director James Gunn. When Scorsese made his comments, Gunn tweeted that he was "saddened" and reminded of the people who picketed The Last Temptation of Christ. In the ensuing weeks, he seems to have decided that this is simply a generational conflict, writing on Instagram on Saturday that John Ford, Sam Peckinpah, and Sergio Leone were similarly unappreciated by their elders:
Many of our grandfathers thought all gangster movies were the same, often calling them "despicable". Some of our great grandfathers thought the same of westerns, and believed the films of John Ford, Sam Peckinpah, and Sergio Leone were all exactly the same. I remember a great uncle to whom I was raving about Star Wars. He responded by saying, "I saw that when it was called 2001, and, boy, was it boring!" Superheroes are simply today's gangsters/cowboys/outer space adventurers. Some superhero films are awful, some are beautiful. Like westerns and gangster movies (and before that, just MOVIES), not everyone will be able to appreciate them, even some geniuses. And that's okay. ❤️

A post shared by James Gunn (@jamesgunn) on
Meanwhile, Judd Apatow, who hasn't yet directed a Marvel film, made the same argument in a slightly crueler fashion:
It sounds like someone's grandpa complaining about Elvis shaking his hips. https://t.co/0vICJ61wtN

- Judd Apatow (@JuddApatow) October 20, 2019
There are so many different cultural, psychological, and generational conflicts wrapped up in this spat over Marvel movies it's difficult to even enumerate them. The least interesting part is the dispute over taste-James Gunn enjoys watching Marvel movies, Martin Scorsese does not-which is a waste of everyone's time. Another part, slightly less dull, is the systemic way Marvel defenders treat critiques of the MCU's mode of production-the slate-devouring budgets, the multi-film contracts, the heavy-handed franchise management-as a dispute over taste. Then there's the smarm front, as bloody as ever, as fans of superhero movies, the dominant cultural form of the age, reveal once again that their confidence in their own taste is so fragile they get angry when their opinions are not held unanimously. There's the "plague on both your houses" camp, arguing that Scorsese's gangster movies and Gunn's superhero movies are rotten fruit from the same toxic masculine tree. There's the usual " make dad finally love me" generational strife that's an unavoidable part of any conversation between elder statesmen and up-and-coming statesmen. And of course, there are people who position themselves as somehow above the fray in insufferable news posts, while pretty clearly leaning to one side or the other based on nothing more than their personal tastes, which, again, are by definition not subject to meaningful dispute.
In other words, although there's no sign this argument about Marvel movies will ever become a meaningful or interesting conversation that improves anyone's understanding of filmmaking, art, commerce, or life in general, we can expect it to continue at a deafening volume for the rest of our lives, occasionally rising to the level of "mildly entertaining" by bombast alone. Stay tuned for next week's installment, when we'll find out what Peter Bogdanovich thought of Avengers: Age of Ultron as the Marvel Discourse enters Phase Four!
mercurynews.org france Frances Ford Coppola Thinks Marvel Movies Are "Despicable"
Related News
One of Hollywood's best-known and most esteemed directors, Francis Ford Coppola, has backed up Martin Scorsese's negative comments about Marvel movies, and he took things a step further. The five-time Oscar winning director behind movies
Natalie Portman defends Marvel movies against Martin Scorsese's criticism. The ongoing controversy regarding comic book movies has brought in some of the biggest names in the history of cinema, unleashing a debate that continues to
Another revered director is taking aim at the Marvel Cinematic Universe. On Saturday, Francis Ford Coppola, the famed filmmaker of classic movies like The Godfather and Apocalypse Now, came to the defense of Martin Scorsese's after
James Gunn has become a leading voice to defend Marvel movies, which is a wee bit ironic considering he was briefly fired from one, but never mind. The Guardians of the Galaxy director
Martin Scorsese's recent comments about the Marvel movies not being cinema, something he's since doubled down on, have now been supported by fellow director Francis Ford Coppola. The filmmaker behind The Godfather movies, Apocalypse Now,
Martin Scorsese stirred up a hornet's nest when he boldly claimed that Marvel movies, especially those held within Disney's MCU, are not cinema. Now one of his contemporaries, Francis Ford Coppola, the man behind such
The bashing of the Marvel Cinematic Universe appears to not be over just yet, as Francis Ford Coppola has thrown his hat in the ring, coming out firmly against the tentpole superhero films. In fact, the
Martin Scorsese isn't the only acclaimed director coming out against Marvel movies. Filmmaker Francis Ford Coppola of The Godfather trilogy and Apocalypse Now fame echoed Scorsese's criticism of blockbuster comic book films while
More News in France
Christine Lagarde, former head of the International Monetary Fund, says President Donald Trump is responsible for many of the risks facing the global economy, and warns that the rise of nationalism is not the answer
Photos have emerged showing Hollywood actress Felicity Huffman wearing a dark-green jumpsuit as she serves her sentence in a California prison. The former Desperate Housewives star was spotted with her hair bundled under a white baseball
Romelu Lukaku and Lautaro Martinez combined brilliantly as Inter Milan survived a late Sassuolo recovery to win 4-3 at Mapei Stadium on Sunday. Defeat to Juventus before the international break shunted Antonio Conte's men down to
Ross Moriarty's late try kept Wales' World Cup dreams alive as they beat 14-man France 20-19 in Oita. France struck with three first-half tries - through Sebastien Vahaamahina, Charles Ollivon and Virimi Vakatawa
Sebastien Vahaamahina was sent off after 49 minutes of the World Cup quarter-final between France and Wales on Sunday. The second row was shown a red card by referee Jaco Peyper for a blatant elbow on
Sebastien Vahaamahina thrust France's entire Rugby World Cup campaign into jeopardy when he was sent off in their quarter-final clash with Wales. His red card came with Wales trailing 19-10 but a man down, France saw